PyroCluster
PyroCluster 3.5 closes the gap between soft hazy 3D environment effects and puffy dense pyroclastic volcano clouds
PyroCluster 3.5 closes the gap between soft hazy 3D environment effects and puffy dense pyroclastic volcano clouds!
A long awaited 3D artist's dream comes true - 3D smoke and cloud effects in all variations just right under your finger tips! 

It is by far one of the fastest and most flexible 3D smoke/cloud generators for 3ds Max. To guarantee a flawless integration into 3ds Max 2010-2012 and 3ds Max Design 2010-2012, many new workflow and design concepts have been introduced.

PyroCluster is now much more user friendly and offers even better control over volumetric effects like any other tool for 3ds Max.
Check out the movie trailer for Trinity featuring PyroCluster™
State of the Art Volume Rendering
Dense Voxel based 3D-Surfaces?
The Mars landscape shown below was rendered with PyroCluster; none of the stones and rocks are real geometry. By adjusting only a few parameters, a soft vapor effect can be turned into rock solid stones or other landscape like formations. Enjoy true 3 dimensional volumetric displacement with proper and flexible self-shadowing with a minimal amount of render time.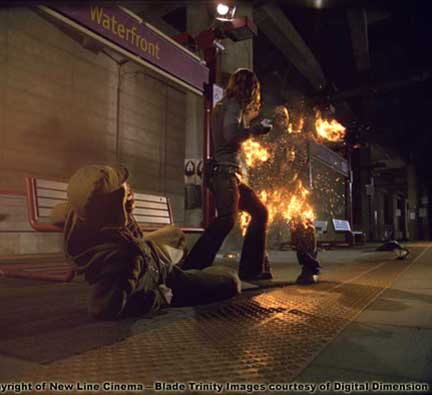 What about the real dense Pyroclastic volcano clouds?
PyroCluster effects can be rendered in many different ways to represent all kinds of natural phenomena, including realistic dense clouds with super crisp self-shadowing. However, there is more! PyroCluster can not only be used to create smoke or haze - it is also perfect for fiery or solid liquid effects. Turbulent water falls or snow avalanches are all possible with one single product. 
PyroCluster features an all new Volume Tracer engine that fully supports all standard 3ds Max lighting effects. Advanced optimization features of the PyroCluster VolumeTracer engine offer many ways to improve render speed and quality. For example, PyroCluster is yet the only plug-in that offers two shadow map creation methods for one single light source! One light source may affect self shadows in the volume differently than the shadow that is thrown onto other objects by the cloud or volume effect!
Compatibility - 3ds Max 2016, 3ds Max 2015, 3ds Max 2014, 3ds Max Design 2015, 3ds Max Design 2014
Real-time Volume Rendering
Pyrocluster offers an advanced real-time preview of the volumetric rendering effect. It supports hardware rendering through the graphics card to visualize the volume rendering in the standard 3ds Max modeling viewport. It enables the user to adjust particle age, distance, or any other kind of particle based volume effect in real time. 
Volumetric Effects Controller
Within PyroCluster nearly every parameter can be controlled with the advanced Effect Editor Curve Control: Particle Age, Object Distance, Emitter Distance, Particle Velocity. Its easy to use and straight forward curve controls based on effect controllers allows an unlimited combination of effects to form the final volume rendering.
Advanced Illumination
Pyrocluster's advanced density based illumination algorithm allows for properly simulated light emission from inside a volumetric rendering effect. This light emission effect goes way beyond anything you might have seen in similar volumetric rendering effects for 3ds Max. 
FullShadow Control
Pyrocluster offers proper and accurate shadow casting and light receiving for cloud and smoke effects based on standard 3ds Max lights. Receiving light and casting shadows is necessary to create realistic renderings.
Mr and PFlow Support
PyroCluster for Mental Ray supports mR in the form of a true native and highly optimized Mental Ray volume shader. An additonal PyroCluster operator for PFlow comes with every PyroCluster installation. This operator allows the access of each particle collection in a PFlow event.
Atmospheric Global Illumination
PyroCluster supports receiving and sending Global Illumination. Such advanced Global Illumination features are only possible when FinalRender is used. Thanks to the highly optimized GI rendering core of FinalRender, it is even possible to generate true Global Illumination within an atmospheric effect itself!
Volume Caustics with pyroCluster
PyroCluster supports volume caustics created by FinalRender or Mental Ray. Thanks to highly optimized ray marching algorithms, volume caustic rendering within PyroCuster volumes can be done very efficiently without a large rendering overhead.
Cartoon Smoke
PyroCluster offers several shading methods for atmospheric rendering within 3ds Max. One option is a cartoon style shading for 3D-atmospheric effects like smoke, fire or dust.
Setting up such shading effects is very easy and straight forward.
ThinkingParticles Support
PyroCluster offers special features and functions that directly hook into ThinkingParticles, like no other 3ds Max atmospheric can do.
Thanks to the rule based (instead of just event driven) particle creation and modification approach, incredible advanced special effects can be created.