V-Ray for Revit - EDU
Eligibility
Students currently enrolled at an educational institution qualify for academic pricing. 
Proof of status will be required in order to access the special pricing for education. 
What's Included
A workstation license includes 1 Graphic User Interface (GUI) and 1 V-Ray Render Node. 
License Type
Annual license. Includes access to all updates and future versions for the validity of the license. 
Support Included
Free support from Vray.us. 
V-Ray for Revit Student/Teacher License - 1 Year Term
The V-Ray for Revit Student/Teacher License gives students and teachers V-Ray for Revit in its entirety for a full year at a discounted price. V-Ray for Revit is essential for any Student or Teacher of architecture.
- Educational licenses are for educational purposes only and not for commercial for-profit work, resale or transfer.
With V-Ray for Revit, you can generate incredible renders of your Revit models from your earliest concepts to the final marketing materials with the highest level of realism.  V-Ray for Revit is now Smarter and simpler. It is more powerful than ever. Boasting faster performance, new Scene Intelligence, improved asset management, and simpler workflows.
V-Ray for Revit is supercharged, super smart — and ready to take on your biggest projects yet.
V-RAY VISION

With the all-new V-Ray Vision, visualizing your projects has never been easier. View your designs in real-time and move around your model, apply materials, set up lights and cameras. This intuitive light mix tool simplifies how you can light your model.
CHAOS COSMOS
What's New? Chaos Cosmos! This asset browser lets you easily place render-ready content right into your Revit model. You can easily choose from a large selection of high-quality 3D assets—including detailed models of furniture, trees, cars, and people—to bring your project to life. 
CPU, GPU & HYBRID RENDERING
V-Ray comes with GPU and CPU or Hybrid rendering. These powerful rendering engines gives you the ability to render super-fast according to your project needs. 
DENOISER
The NVIDIA AI Denoiser uses artificial intelligence to remove noise instantly. The Denoiser supports denoising individual render channels to simplify compositing.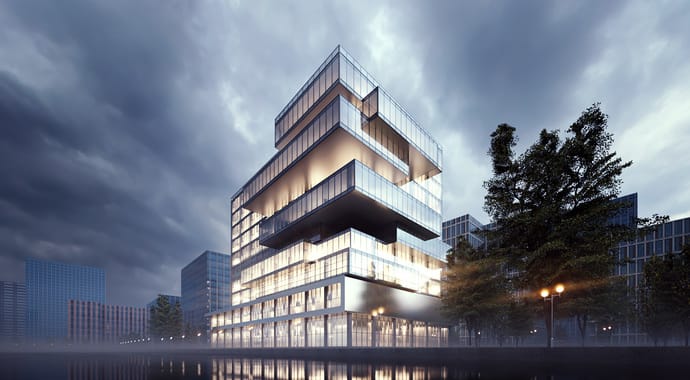 SCENE INTELLIGENCE
Accurate Lighting Analysis makes it easy to visualize real-world illumination so you get the best quality in less time.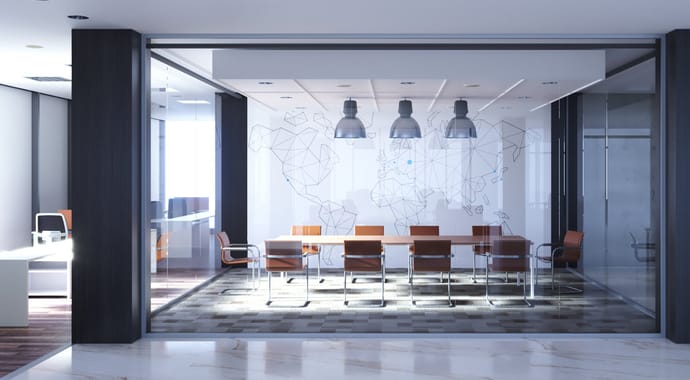 BATCH RENDERING- Helps you schedule multiple views for rendering with the click of a button. You can leave V-Ray to render your project images while you are away.
SUN ANIMATION- V-Ray adds extra realism to Revit's Solar Study. Add the impact of natural light and shadows on your designs across a variety of timespans. 
OPTIMIZED PERFORMANCE - Render 2x faster thanks to V-Ray Next's speed and performance optimizations.
USER INTERFACE
Seamless Integration - V-Ray naturally fits into Revit's UI and complements your Revit workflow without altering your BIM database.
Asset Editor - Create, edit, save and manage your V-Ray materials all in one place with the Asset Editor. 
Appearance Manager - You can set basic Revit assets to automatically switch to more realistic V-Ray assets at render time.
Frame Buffer - Track the history of your rendered images, fine-tune their color parameters, and save them directly to your Revit project.
LIGHTING
Accurate lighting

Simulate any type of natural, artificial, or image-based lighting. 

Light mixing

Experiment and adjust your model's lighting after you have rendered.

Adaptive lights

This lighting algorithm dramatically speeds up rendering in scenes containing many lights.

Lighting analysis

Easily visualize real-world illumination values (lux) with the new Lighting Analysis render element.

Sun & Sky

Improved sky model to present your design in its best light when the sun is at the horizon. 

Global Illumination

Render photorealistic rooms and interiors with powerful and fast global illumination.
CAMERA
Real World Camera - Work like a photographer with controls like exposure, white balance, and depth of field, etc. 
Automatic Exposure and White Balance - The new Auto Exposure and Auto White Balance camera controls make rendering as simple as point and shoot.
Lens Effects - The Real-world camera lens effects such as bloom and glare adds that extra touch of realism. 
Virtual Reality - Experience your designs at a 1:1 scale. Creat content for popular VR headsets.
ATMOSPHERIC EFFECTS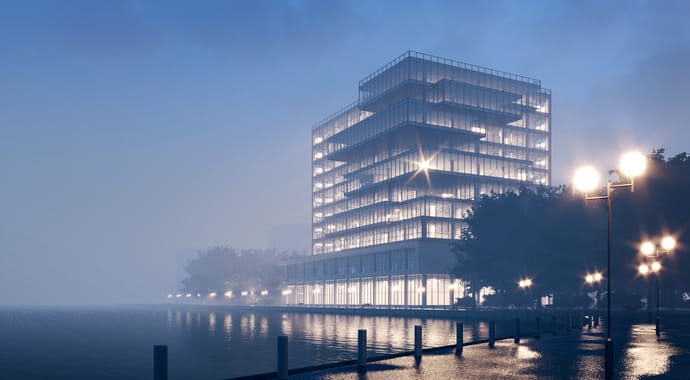 Environmental Fog - Quickly add realistic atmospheric depth and haze and use true 3D fog with realistic light scattering.
Aerial Perspective - Simulate natural-looking skies with realistic atmospheric depth.
Volumetric Materials- Realistic material light scattering and translucency.
Geometry Management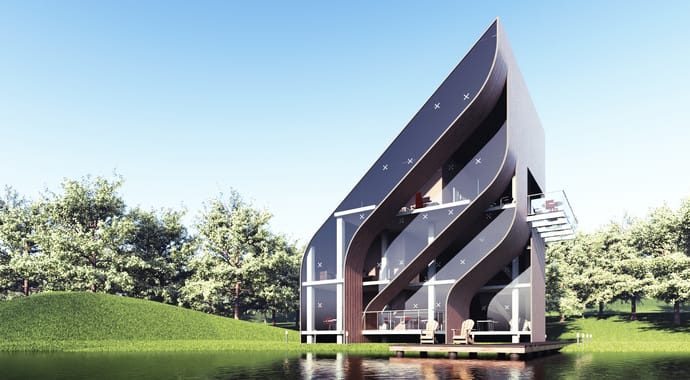 Geometry Replacements-Work smart without altering your BIM database. Use your Revit families as stand-ins for all V-Ray objects
V-Ray Proxies-These are memory efficient models of highly detailed objects like trees and cars.
V-Ray Grass & Fur-Render realistic grass, carpets or fabric.
Randomize Proxy Objects- Add variety to your V-Ray entourage.
V-Ray Scene-Link and render V-Ray scenes from other applications such as 3ds Max, Rhino, and SketchUp. Share complete ready-to-render V-Ray for Revit files.
Displacement-The displacement asset can be applied to both V-Ray materials and Revit materials.
Section Box-Render sections easily with full support for Revit's native section box.
Infinite Ground Plane-Create context for your project in a click of a button.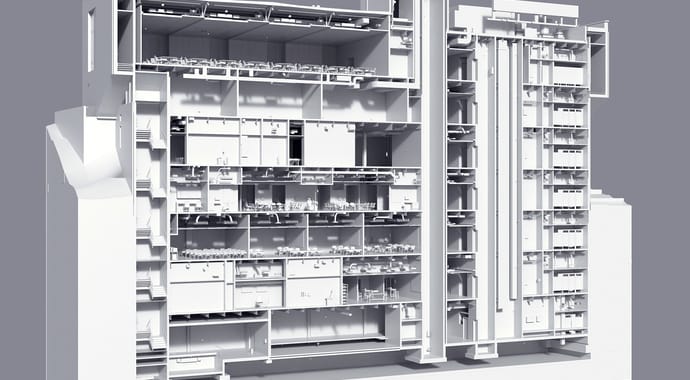 Windows
---
Please make sure that your system fulfills these requirements before installing V-Ray. Note that V-Ray is only supported for 64 bit operating systems and 64 bit versions of Revit. For additional information on hardware, see the Hardware Recommendations article.

Processor

1st Gen Intel® Core™ or compatible processor with SSE4.2 support (x64)

RAM




Minimum 8 GB RAM, recommended 16 GB RAM

Hard Disk Space

minimum 2GB, recommended 12GB (includes additional downloadable content)

TCP/IP

Only IPv4 is supported. IPv6 is currently not supported

Operating system



Windows® 8.1, Windows 10

Revit

Autodesk Revit 2018, 2019, 2020, and 2021.
GPU Support

Maxwell-, Pascal-, Volta- and Turing-based NVIDIA card(s) with latest video driver or at least version 411.31.


V-Ray Vision requires a Graphic card with DirectX 11 or DirectX 12 and Shader Model 5.0 capabilities.