Regular price
Sale price
$70.00 USD
Unit price
per
Sale
Sold out
LAB License for schools, for use on all computers in a single classroom or lab (one room), or as a floating license to use VisualARQ on 30 Computers in a department
Note: Prices include support and service releases. There are no maintenance fees.
Option to add Savanna 3D for $70 more.
*Proof of academic status required
--
SAVANNA

3D R6

 

contains over 1,300 detailed 3D models in 3DM format + 

12 Grasshopper definitions

 

to create parametric models. 

These models (which include furniture, fixtures, handrails, office equipment and more) have materials included in Rhino 6 and are ready to be inserted into Rhino and VisualARQ to give you a head start.
The complete Savanna 3D library is included in one of the VisualARQ purchase options but it can also be purchased individually (contact visualarq@asuni.com).
Watch an overview of the Savanna3D content in this promotional video.
You can download a free demo here.
Before you use any of the Grasshopper definitions included in SAVANNA

3D R6

, you should know these three things about the files!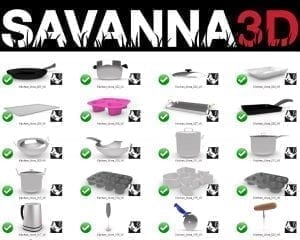 VisualARQ 2 LAB License
LAB Licenses are for schools, for use on all computers in a single classroom or lab (one room), or as a floating license to use VisualARQ on 30 Computers in a department.
* Must provide proof of academic status
VisualARQ is a plug-in designed for a sector of the architectural market. It allows you to work within Rhino's interface, providing specific tools to create/edit architectural plans and to work with parametric 3D Objects. Such as walls, doors, windows, columns, slabs, roofs, stairs, and railings. This makes the architectural design process and its documentation much easier to handle.
With the release of VisualARQ 2, VisualARQ is now compatible with Rhino 5 and Rhino 6. 
Main Features:
Freeform modeling

Grasshopper integration

Flexible BIM features

Powerful documentation

Parametric architectural objects

Easy management and user interface

Architectural visualization

Team collaboration
New features in 2.8:
This new service release includes some new features and fixes most of the issues reported by users:

Cloud Zoo support
Overhead attributes. (Watch video tutorial)
Plan cut elevation to show objects above or below cut plane
Bottom control arrow to extend walls and curtain walls

See the complete list in What's new.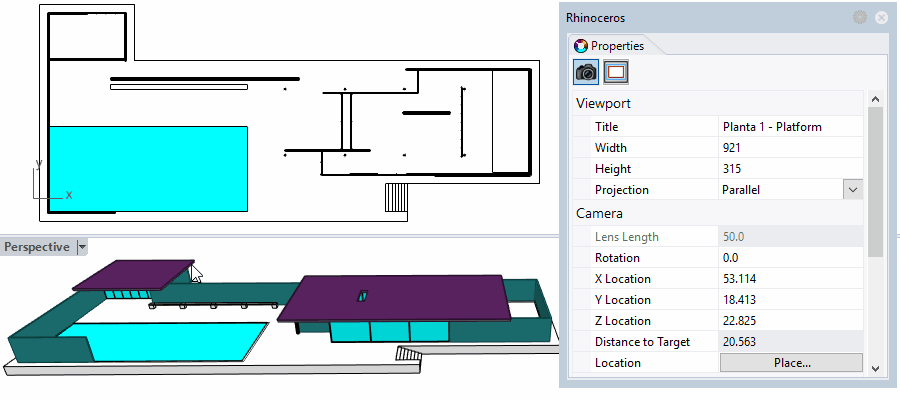 Changes:
Toolbar:

Added a new Edit toolbar, that stores the following commands: vaAddSolids, vaSubtractSolids, vaExtractSolids, vaFlip (moved from the Tools toolbar), and vaSplit and vaFillet.
Added a toolbar icon for command vaSlabSubtractStairClerance.
Added new toolbars for the Railing, the Curtain wall, and the Stair objects.

Section attributes and parameters are no longer lost when creating or exploding blocks
Grasshopper components:

IsKindOf now supports VisualARQ objects.
Improved speed (+4x) when baking large amount (+1000) of beams.

VaSlab command doesn't accept self-intersecting curves.
VaCurtainWall command doesn't stop after the FromCurves option.
Grasshopper Styles
Create new VisualARQ object styles from Grasshopper definitions.
Watch the video
Hidden-Line Vector Output
Just print the 3D model in Perspective, Section and Plan views in Hidden-Line vector output.
Watch the video
Custom Parameters
Create new parameters and add information to Rhino and VisualARQ objects so you can generate quantity takeoffs.
Watch the video
Section Manager
Manage the sections in your model as you manage levels with the Level Manager.
Watch the video
New Element and Furniture objects
New objects to generate parametric custom objects with different representations in 2D and 3D.
Watch the video
New Annotation object
New 2D parametric element for symbols and annotations in 2D drawings.
Add + Subtract solids
Do Boolean unions and differences between Rhino solids and any VisualARQ object without losing their parametric properties.
Watch the video
IFC materials and attributes
Materials, colors and layers are now imported and exported within IFC files.
Beam joints and end cuts
Beams calculate intersections and beam cuts can be defined at ends.
Watch the video
New Roof features
Roof interesections, roofs from surfaces, and multilayer roof styles.
Watch the video
New Space features
3D display, curtain walls are detected, option to add and remove elements for space calculations.
Watch the video
Object selection commands
New commands to easily select VisualARQ objects of the same type.
Watch the video
Support for external references
Fixed bugs related to VisualARQ support of objects in blocks and external references.
Dockable insert dialogs
Improved insert dialogs that can be docked for a better workflow.
New Tag and Section symbols
Symbols for tags and section arrows can be customized.
Share
View full details
Asuni CAD
Developers of Visual ARQ and Lands Design, Asuni CAD makes top plugins for McNeel Rhino.